Services We Offer
Comprehensive Eye Care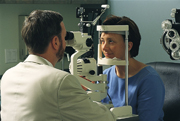 We provide comprehensive eye care to patients of all ages. Our doctor is fully trained and experienced to diagnose, treat and prevent conditions from myopia and hyperopia to glaucoma, cataracts and everything in between.
We strive to provide our patients with safe, minimally invasive treatments to effectively relieve symptoms and preserve vision and overall eye health. As a comprehensive ophthalmology practice, our services include not only laser vision correction and small-incision cataract surgery but also treatments for a range of conditions such as glaucoma, the diabetic eye, dry eye and macular degeneration.
Regular Eye Exams
Regular eye exams are an invaluable tool in maintaining your eyes' health by detecting and preventing disease. Some diseases develop slowly without causing pain or vision loss. Early detection of any problems can reduce the risk of further harm and allow for a choice of treatment options. We regularly screen for diseases such as glaucoma and diabetic retinopathy, which can develop without any noticeable symptoms.
Surgical Treatment
Certain advanced eye conditions may require surgery in order to restore or maintain vision and prevent serious complications. Surgery for cataracts, glaucoma, corneal disease and other serious conditions are an effective means of correcting these diseases and returning the eyes to a more optimal state of health.
Dr. Ashkanazy performs surgery only when needed to reduce the invasiveness of treatment and any associated trauma or downtime, and after less invasive treatment such as medications, eye drops and laser procedures have failed. We also perform laser vision correction procedures to improve vision and eliminate or reduce the dependence on contact lenses and glasses.
To learn more about the comprehensive eye care services provided at our practice, please call us today to schedule an appointment.
Pediatric Eye Care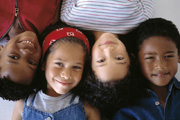 Children should have their first eye exam at about age two, although it's never too early to test a child's vision and eye health. Comprehensive eye exams are essential in the diagnosis and treatment of vision problems, injury and disease. Early detection allows for treatment to begin before the child experiences difficulty in school due to poor vision, or before any permanent damage has been done to the eye(s).
School Eye Exams
Clear vision and healthy eyes are important not only to your child's overall health and well-being, but are also directly related to their academic performance in school. Comprehensive eye exams are essential in the diagnosis and treatment of vision problems, injury and disease. While vision is likely tested at your child's school each year, these exams only evaluate eyesight and do not test the overall health of the eyes.
Vision screenings are recommended every other year while your child is in school, or every year for children who need eyeglasses or contact lenses. Regular testing helps detect any problems early, which allows treatment to begin before the child experiences difficulty in school due to poor vision, or before any permanent damage has occurred.
Contact Lenses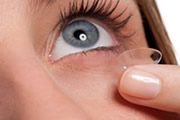 Thanks to advances in optical technology, almost everyone can now wear contact lenses, regardless of the type or extent of their vision problems. That includes patients with astigmatism and those who need bifocal or multifocal lenses. Unlike glasses, contact lenses move with your eyes so you can enjoy a larger field of vision with fewer distortions. You also don't have to deal with frames hovering in your peripheral vision or external lenses that fog up on cold days or get wet in the rain.
There are many different kinds of contacts, including rigid and flexible, extended wear, disposable and planned replacement lenses. Some can be made as bifocals or in different colors. After a thorough eye exam and consultation with an experienced physician, patients who qualify for contact lenses can discuss which type is right for them. All contact lenses require special care and cleaning. You'll need to make regular follow-up visits to ensure your eyes remain healthy.
Optical Services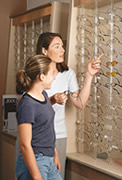 In addition to the comprehensive ophthalmology services provided at our office, Julia Optical also features a wide array of eyeglass frames to suit every and budget. We offer patients frames from many elite designers, as well as stylish yet affordable alternatives. We also carry a full line of frames for children and teens.
Our convenient onsite location also eliminates the hassle of having to take your prescription to another location in order to fill your vision correction needs. In addition to eyeglasses, we also provide sunglasses, sports glasses, goggles and other forms of safety and athletic eyewear.
When visiting our optical shop, patients will be seen by our optician, who will help you decide which type of glasses are best for you. Once you make your decision, the optician will fit you for your chosen frames to ensure that you receive the best possible results from your vision correction from a practice you trust.